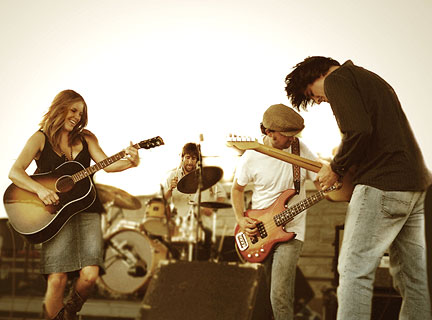 Grace Potter and the Nocturnals: they only come out at night!
Meanwhile, back at the
SOLD OUT 9:30 Club
, it's like old times again!
Grace Potter and the Nocturnals, whom we enjoyed as an opening act supporting Gov't Mule last November, are on the prowl and selling out venues across the country in their first ever headline tour. The 1600 crew was granted an
EXCLUSIVE
interview with the gracious Ms. Potter backstage before the show, slated to air in about 3 weeks on Channel 10. And let me tell ya, we were as impressed by her knowledge of music and dedication to her craft as we were by her voice and musicianship. And remember, you heard it here
FIRST!
As for the show, opening act Will Dailey and the Rivals warmed up the packed house, with guitarist Matt Pynn showing some solid chops and playing some crisp leads. In 2006, Dailey won a Boston Music Award for best male singer/songwriter, and his songs have been featured on
CSI: NY
and recorded a cover of Tears for Fears'
Everybody Wants To Rule The World
for the series
Kid Nation
. With a couple of albums under their belts, last year's "Back Flipping Forward" has gotten some traction already, and may catapault them further into the public eye.
In the meantime, in case you've been under a rock somewhere for the last couple of years, Grace Potter and the Nocturnals have
arrived
. The band has released three CDs so far, culminating in 2007's "This Is Somewhere," which demonstrates the young Vermonsters' retro, bluesy sound and Grace's rapidly-evolving songwriting and mature, expressive voice. Guitarist Scott Tournet, bassist Brian Dondero, and drummer Matt Burr ably and gleefully accompanied Grace in this nearly two-hour, adrenalin filled romp. And clearly their exposure to other artists in the jam band scene has made an impression, but they have a distinctive, rootsy sound with a pace that's tight but unhurried, separating them from many of their contemporaries. They are a throwback to old 60's soul and blues, as genuine and heartfelt as their inspiration.
Take one part folk, a dose of Southern blues, add a touch of swamp boogie, some overtones of a gospel revival meeting and top it off with a generous portion of sweet maple syrup, and you get the powerful, "lightning in a bottle" punch described in their opening number,
Mastermind
, one of the bands' signature tunes.
Stop the Bus
, a great jamming groove about getting out and playing on the road soon followed, as well as
Here's To the Meantime
, a song about unrequited love that Grace assured us was
not
autobiographical. Likewise,
Joey
("don't treat me good no more"), off the "Nothing But the Water" album, echoed the defiant spirit of a woman done wrong by her abusive boyfriend, finally standing up to him and getting out of a bad situation.
Ah, Mary
is another song about a tough ol' gal, with a sly knockout play on words at the end, that takes the story to a whole different level.
Sugar
is a new song, showing Grace in turns as playful, seductive, raucous and bluesy, and evoking a classic sound that was simultaneously familiar yet fresh.
Sweet Hands
also had a great hook, and
Nothing But the Water
was another standout, the latter song joyous and exultant, and bursting with that "Sunday-go-to-meeting" spirit interpreted through Janis, Bonnie, Rickie Lee, Johnny Cash, and a little Band-era Bob Dylan. The set and encore also yielded a couple of interesting arrangements that refreshed the band's covers of the Who's
Gettin' in Tune
, and Aerosmith classic
Sweet Emotion
. The band closed with a strong rendition of
Big White Gate
, written for (but not actually about) Grace's grandmother, about life being too short for regrets, and the merits of diving into it feet first.
We're expecting great things from this talented band, and look forward to seeing them back again, for what we hope will be many appearances in local DC-area venues, and many more jokes, stories and insights. 1600 also thanks Grace's dog
Kick
for joining us, and breaking the ice, as well as Jen and Justin for helping to make the interview possible. We hope everyone enjoys the rest of the tour, and look forward to the next release, which Grace promised us will be a departure from their previous recordings, taking the band into new and uncharted frontiers!
Catch 'em if you can, but for now, we'll reluctantly say "goodnight, Gracie!"