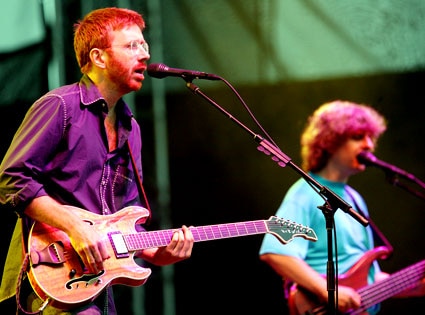 There are few more delightful phrases in the English language than: "ROAD TRIP!" It immediately summons to mind madcap adventure, drinking to excess, coming of age, loud music, and a wild ride from the frat house to a roadhouse where much mischief ensues...and perhaps driven by such nostalgia, your stalwart 1600 team converged upon Pittsburgh, PA for the latest leg of the Phish reunion world tour!
Jerry voluntarily took the wheel, probably because he had the most comfortable car (or was it so he could control the stereo?
hmmmmmmm
) The weather was mostly on our side except for a couple of mercifully short-term rain squalls that were over almost as soon as the wipers were turned on. Still, he made good time and didn't get lost, and we arrived well before the appointed hour to check in at our initial destination, the
only
smoking room at a nearby hotel (Day's Inn? Comfort Inn? I wasn't paying attention). Of course, as the third wheel, I was stuck with the cot, but by the time I needed it, I probably could have slept on a bed of nails! And we were just a stone's throw from the venue, where we absorbed a couple of drinks and headed back down the highway to the Post- Gazette Pavilion in nearby Burgettstown, PA.
It's a nice park, with a good-sized lawn and good acoustics, probably about the size of Merriweather Post with easier parking. And the parking lot nearest to the gate had various attractions, from t shirts and hats to toasted cheese sandwiches, toys, jewelry, facepainting, and of course, gourmet gooballs, just like Steve described on the show! It was deja vu all over again! There were also bountiful food and beverage options once inside the park, and lots of picnic tables to accommodate visitors in comfort. The weather was perfect: mid-70's and a nice breeze, low humidity, and no bugs. The only impediment I could foresee was seating: while Steve and Jerry's tickets put them stage left-center about 6 rows back, I was about 20 rows back and not looking forward to the prospects of hanging out solo. If I was going to get sweated and barfed on, I preferred to know the source!
Fortunately, I managed to "float" down to their seats with Jerry's stub after he was in. Security was already preoccupied with stopping people from lighting up- mostly people smoking cigarettes! (ultimately giving up once the lights went down, from the sheer volume of the task of enforcing any rules with 30,000 people steadfastly ignoring them!)-even though the sun hadn't yet set. When it did, all hell
really
broke loose. And the security folk stayed behind their fences and we left them alone.
And the show? Excellent! Having seen these guys only once, back during their 90's heyday, I wasn't entirely sure of what to expect. Surprisingly, I was actually familiar enough with much of their set to know the words to a few songs, and soon joined in the revelry. The band opened with "Golgi Apparatus," from
Junta
. "Chalkdust Torture" followed, and then two favorites I'd seen at my only prior Phish show- "Bouncing Around the Room," and "Wolfman's Brother." The crowd went wild, and we all bounced and howled along with them. Of the rest of the first set, "The Divided Sky" was solid, Steve went on a beer run during "Heavy Things"(from
Farmhouse
), an excellent cover of the James Gang's classic "Walk Away," followed in short order by "Wilson," "Tube," "Alaska" (hysterical tune, the first time I'd ever heard it!), and finally ended the first set on another high note with "David Bowie."
Somewhere through the first set, a family (the parents perhaps a couple of years younger than ourselves) made it to their seats in the row just in front of us. Between Mom and Dad were 4 girls, I'd guess from about 6 to 12 or 13, watching closely and sometimes singing along, the smaller ones waving glow in the dark toys being sold at the park. I think a lot of people kind of reined it in out of respect for the kids, and many of us directed the beach balls and balloons that were getting passed around the audience toward the kids so they could bat them into the air. They left predictably early, but looking very happy to have been there, a good time had by all.
The second set kicked off with "Down With Disease", another good tune tune off
Hoist
, followed by an hour- plus long, practically non-stop medley that included "Free," "Guyute" (from The Story of the Ghost), "Piper," "When The Circus Comes To Town," and Harry Hood," finishing up with "The Squirming Coil" from
Lawn Boy
, and "You Enjoy Myself."
After a short break for the boys to catch their breath, they delivered a mostly
a capella
encore: "Grind," then into "Hello My Baby," the theme song for Michigan J. Frog, the hero of Looney Tunes' hilarious "One Froggy Evening." Next came "Hold Your Head Up," Pink Floyd's "Bike" (Jon Fishman singing it after apparently losing a bet), and finally "Loving Cup," with everybody back on their instruments, at which point the lights inevitably began to come back up....
Trey, Mike, Page and Jon appeared to be in good humor, signaling each other for chord and direction changes during songs, laughing audibly, and just generally looking like they were happy to be back out together and in front of an appreciative crowd. Taking bows at the end, Jon asked "how do you like my band?" earning another roar of approval from the many thousands who stayed 'til the very end. Sure, I would have liked to have heard "Sample In A Jar," or "Poor Heart," or maybe even a Talking Heads cover (they have been doing a few off the
Remain In Light
album on this tour), but I think everyone there was more than satisfied. In any case, this was one of the biggest tours of the summer, and they're sure to get out on the road again.
But after that three hours and change marathon, we were nearly as exhausted as the band, and yearned for the peace of the hotel. Somehow, we summoned our remaining energy and bolted for the car, getting out before the crush of fans all trying to leave the parking lot at once, and were back at the hotel and drinking again in under half an hour.
Big thanks to Steve Z for access to the great pics, and our recommendation to check out his site, http://welcometonow.wordpress.com, for more pictures, vids, and info on many of your favorite artists!