Elbow: Strings (and Trumpets!) Attached
And speaking of new venues, the 1600 crew ventured downtown and into uncharted territory once again, for an intimate evening with Elbow at the Historic 6th and I Street Synagogue in Northwest DC Sunday night. Joining the band on the tour bus for a lengthy interview we got the lowdown from guitarist Mark Potter, his brother and Elbow keyboardist/producer Craig Potter, and lifelong pal and bassist Pete Turner, our affable hosts who provided us with insights on how the band got together, their earliest incarnations as a funk band (believe it or not), how they compose, where they record, and what's in store from these Manchester, UK natives. See it all on Channel 10, same Bat-Time, same Bat-Channel- and soon after on this very website....!
Jesca Hoop offered a brief but compelling performance, punctuating the moments between songs with stories and asides, like how she was approached by Elbow singer and frontman Guy Garvey to interview on his syndicated radio show, then spaced on calling in... but it would appear that they managed to work through that inauspicious introduction, with Guy offering his unqualified praise during the band's set of her songwriting and singing abilities, stating they were privileged to share the stage with her- not something often heard from a band describing an opening act!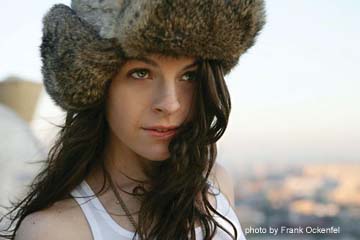 And apparently, the crowd agreed, snapping up every last copy of her CD debut, "Kismet" (don't even ask, just go get it), or go to her website: www.jescahoop.com, and prepare to be wowwed.
Whispering Light
,
Seed of Wonder
,
Summertime
,
Angel Mom
and
Murder of Birds
all showcased her melodic and distinctive voice, and unique guitar style. At times Ms. Hoop showed glimpses of influences as diverse as a Sandy Denny- led Fairport Convention, Renaissance, Joni Mitchell, Kate Bush and Sarah McLachlan, among others- but
only
fleeting ones, as they merged seamlessly with her own eccentric, poetic, traditional/folk-inspired and accessible sound. She played with and cajoled the crowd and opening a casual dialogue with everyone, and speaking with genuine reverence about playing in a synagogue, apologizing when she cussed (just once!), Jesca said that she was intentionally taking advantage of her somewhat subdued and comfortably "captive" audience to play songs that required active listening. No one complained.
After a short break, Elbow came through the crowd, with all players except drummer Rick Jupp carrying trumpets, and heralding their arrival with the sudden and triumphant flourish of
Starlings
, the first cut off their latest release, "The Seldom Seen Kid." They followed it with
The Bones of You
, another haunting, dark and dreamy selection from the new album, and
Leaders of the Free World
, the title cut (with a great groove) from their last CD, and
Great Expectations
.
Mirrorball
was introduced by Guy Garvey as a song about "two people who were married while on a bus...and the bride never knew it." Fittingly the next tune was
Grounds for Divorce
, among the best tracks on "The Seldom Seen Kid," and the source of its title ("Someday we'll be drinking with the seldom seen kid."), a nickname given by his dad to one of his co-workers that was often inexplicably absent...
By midway through the set, Garvey was
certain
that synagogues were built for rock bands. He later observed that it was probably "the nicest place we've ever played in," and remarked on how cool it was to have a house of worship open up its doors for musicians to play in. The acoustics were spectacular, the bands performance often intense, and while it was difficult at times to remain seated (the roaring crowd rising to it's feet during
Newborn
and
Station Approach
for standing ovations), it was certainly a comfortable alternative to being shoehorned into a small crowded club, crushed against the stage. Like Ms. Hoop, they also played some rarities, such as
Switching Off
, a song John Cale called "one of the greatest songs ever written," naming it among his personal favorites along with cuts by Dylan, The Beatles, Velvet Underground, and Peter Gabriel in a BBC Radio 4 Interview in 2004 (not shabby company). Other standouts in the set included
The Stops
, from "Leaders" and
Scattered Black and Whites
, from "Asleep in the Back," their 2002 debut.
The core of Elbow was augmented by two talented violinist/vocalists, Stella Page and Prabjote ("Jotie") Osahn, who accompanied the band with sweet harmonies and added another facet to the layered sound, helping transform the music into modern symphony. Guy had said his throat had been bothering him and wanted to save it for the show, and his expressive and achingly beautiful tenor came through when it counted, further embellishing every song they performed. He even managed to get the crowd involved in a couple of songs! Pete laid down some unusual bass lines, at times toying with a synth stationed next to his gear, his face usually bearing a satisfied smile. I was again riveted by Rick's drumming, and while not flashy, every lick evinced absolute control and power. Craig Potter applied his atmospheric layer of keyboards tastefully, not overpowering the song or ever drowning out the other instruments. His brother Mark and Guy each played solid but never ostentatious guitar throughout, and only once did either perform a solo of more than a few seconds, the primary rule of this band seeming to be "no wanking." The capable musicianship and song-craft came through quite clearly without the grandstanding.
Following this ten city sweep through the US, Elbow's touring plans for the immediate future include some European dates opening for REM, and summer festivals including Reading, Leeds, and the world-renowned Glastonbury Festival. Pete and Mark also mentioned a collection of B-sides that is nearly ready for release, which allowed the band to expand on some favorite compositions that had been percolating among them for years. We are most appreciative of their cooperation and courtesy in allowing us to join them, and look forward to their next trip to DC. It can't possibly be soon enough! Carry on, fellas...we'll look for that B Sides release in the not too distant future, thanks again for a very memorable day!